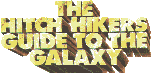 Megadodo Publications, Megadodo House, Ursa Minor Beta


Do to their tremendous popularity, we've decided to make the following samples a part of our permanent collection here for your continued enjoyment! The events surrounding each are cataloged and indexed in the newest issue of the Guide. Click on the icons below to access the samples.
All sounds now converted to Sun .au format!
Please be patient while these download. They are being Sub-Ethered in from a server off in the uncharted backwaters of the Galaxy...
"Share and enjoy!" (15K)
"Ahh... So, I'm a masochist on a diet?" (23K)
"Your a load of useless bloody loonies!" (27K)
"There aren't any real people here at all!" (28K)
"The universe will explode later for your pleasure." (31K)
"I seem to be having this tremendous difficulty with my lifestyle." (38K)
"It's mind taxing time again is it?" (38K)
"Gonna take a little time to work out." (38K)
"That's probably normal behavior for a Vogon" (51K)
Something aggrivating happening on Magritha (60K)
"This is Eddie... everything's just tickety boo!" (135K!)
"The answer to life, the universe and everything is.. 42" (263K!)
If you enjoyed these, you might want to visit
some other online HHGttG sound collections:
Kjetil Hanssen, kjetil@icenet.no recently added even more sounds to his HHGTTG Sound Page in Norway. Where he stores them all remains a mystery.

Always comprehensive, Nathan Hughes, nhughes@umich.edu has posted the samplings of Ulrich Schreglmann uhschreg@cip.informatik.uni-erlangen.de on the Univ of Michigan's FTP server at ftp://ftp.umd.umich.edu/people/nhughes/wav/

---