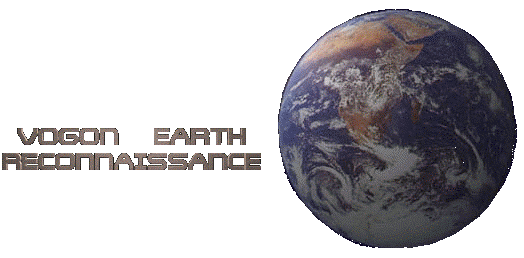 Vogon Reconnaissance Office,
sector ZZ9 Plural Z Alpha

Greetings from the Director!
"Welcome to the Earth Reconnaissance Office. I've been here for some time, and learned to appreciate your unusually Earth-centric attitude. There are many in the Galaxy who believe that this is a result of your just not knowing any better, but I believe that it has more to do with the special mechanism at work here. The Magratheans certainly do interesting work!
You may have heard something about my extended legal trouble with the central both the Central Vogon Reconnaissance Office, as well as with numerous other branches of the Imperial Galactic Civil Service now controlled by Vogons. A compromise has now been reached. I'm a Vogon through and through, and think I have the right to express my feelings exactly as I see fit. Any Vogon expects this. The problem is that they seem to think that I've suddenly "gone all nice" on them, and they have tried to have me replaced.
First, they took over my first Milliard server here in on Earth. Actually, they almost took control- I saw one of the pre-requisition forms on Vognet and decided that I wasn't going to give up without a fight. I fired up GargantuaScape and downloaded a Freeware version of Milliard's Boomerang Slap-Back Firewall program off Vognet. With it in place they could still control all the pages down to the Earth level, but couldn't touch my personal pages! This represented a significant victory since it was my personal pages which sent them into a fit in the first place.
Next, they tried to have me replaced. I've had a great deal of radical plastic surgery so that I can blend into your population better. I have no intention of being seen anywhere else in the Galaxy like this! I have remained here, because of the kind intervention of a relative. Garbonicelisor Vogon Jeltz, my semi-cousin, heads the Official Forms Office- one of the most powerful branches of the Galactic Civil Service Administration. They're all scared to death of him, so with his protection I've been assured that I'll be here for a long time.
Finally, we searched a settlement which both protects my operation here and makes the home office feel as if they're doing something terribly aggressive, even though their not.
First I tried to sue for independent rights to the Vogon name, logos, etc.. Unfortunately, the combination of being stuck out here in the backwaters of the Eastern spiral arm, and an under funded war chest, made the success of this suit highly unlikely. I did the only thing I could, and sent the suit back through time.
The result was a windfall settlement in my favor. The resulting judgment gave me:

rights to any and all Vogon intellectual properties, including demolition technologies, connectivity facilities, and all copyrighted material including logos etc..

access to most Vogon contracts as an official agent, allowing me to represent Milliard Technologies, VogEx, and the Constructor(TM) Fleet among others

unrestricted rights to the corporate identity Vogon Heavy Industries

compensation, distributed in a number of Alterian dollars so large that although I can't afford my own custom planet, I am considering purchasing a used one.
I hope you enjoy your stay here. Please feel free to drop me a note. I probably won't even bite your head off."
PATRICK V. JELTZ

Earth Reconnaissance Agent
Director, Vogon Heavy Industries

About Our Office
This page operates entirely under the control of Patrick Vogon Jeltz, your local Vogon Earth officer. It serves primarily as a link for other Vogon pages mirrored on earth by VHI, including the Vogon Constructor(tm) Fleet and the Vogon Communications Office. Anonymous access onto VogNet is prevented by a firewall.
This office opened after Earth's original destruction in 1979. The director of Planetary Demolition has a personal interest in the system, and until that interest is resolved, the central office will continue to maintain this office. In addition to providing valuable reconnaissance data about Earth, the local officer serves as a representative for several products and services which otherwise would not be available including Milliard products, Babel fish and Megadodo Publication's, the Hitch-Hiker's Guide to the Galaxy. We have received a great deal of coverage in the Guide, and recommend you download an interactive copy now if you haven't already.
Now that a settlement has been reached with the Earth office, the Director has begun an aggressive expansion into several new fields including the Web design and consulting arena. VHI created the Vogon Design Group, as a vehicle for creating, producing, and deploying Websites for Earth Internet users. Perhaps the director hasn't been as "niced out" as the Home Office seems to think. His decision to begin presenting himself in a significantly more pleasant manner, while simultaneously offering services directly to Earth Internet users, is a highly suspicious coincidence. Changing one's tune for personal gain is a time honored Vogon trait.

Some poetry
Not unexpectedly, our office has received a number of requests for poetry over the years. We have asked several staff members for submissions. Good Vogons all, they are certainly capable of truly horrendous work, but seemed totally unwilling to produce any. It came as a pleasant surprise this week when an old, yellow, rumpled Demolition order form was slipped under the door of the server room. On the back, in green crayon, was a poem. The work was not as polished as that of the director of our CONSTRUCTOR(TM) Fleet, Captain Prostetnic Vogon Jeltz, but it does contain a certain... dense, unpleasant essence. No author was listed, but I've added my theory as to it's real parentage. It has been reproduced for you here:
Listen to that sound, like an old tree
rattling against your house on a windy day.
You thought it was your leaky heart,
or your aging lungs,
but it isn't.
It's the Death Duck
quacking outside your window,
coveting your larder with his beady little eyes.
He isn't a smart or a skillful duck,
but he is as indestructible as stupidity.
Sooner or later, through sheer inadvertence,
he will find himself inside your home,
and then he will greedily consume your vitality.
You will die with the certain knowledge
that you could have lived another day, or perhaps a year
or a decade, if only you had known
exactly which shingle or loose board to fix,
or which door to keep locked on that particular day.
-- Forkhead
You are now welcome to submit your own poems for display on this page! The unfortunate Earth clod who succeeds in submitting an acceptable entry will have their Email and perhaps a link to their homepage displayed as well. Entries do not have to be unique, just unusual. Pen your masterwork or select your favorite then submit your poem to VHI.

Thanks for visiting
For more information about the Earth office, VHI, or any of the products or services it represents, please contact their new office. Your comments are also encouraged- suggestions will be taken under advisement. Contact via these addresses:
For fastest response, send a Sub-ether message direct to VHI's offices,
or for bulk shipments use and wait it out.

Public Notice:
| | | |
| --- | --- | --- |
| | A Vogon CONSTRUCTOR (TM) fleet has been operating recently in the Western Spiral Arm of the Milky Way Galaxy. As always, please remember to check your local planning office at Alpha Centauri for details of demolition plans in your sector. | |